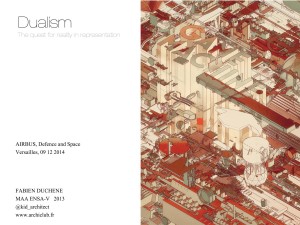 Hier soir je donnais à Versailles une conférence sur le dualisme numérique devant les ingénieurs de la R&T et le vice président de Airbus Defence and Space. Vielen Dank für Ihre Anwesenheit !
Au programme :
Klaas de Rycke, ingénieur, architecte, enseignant en sciences et techniques de l'architecture.
Participation de l'ENSAV au Solar decathlon Europe 2014, retour d'expérience
Utilisation des outils numériques dans l'enseignement
Jean François Coulais, géographe, docteur EHESS, enseignant titulaire ville et territoire, chercheur à l'IPRAUS et au Léav.
Présentation de la maquette en 3 D de la plaine de Versailles, et reconstitution en 3D de toute la cartographie
historique au moyen des outils SIG.
Fabien Duchene, architecte, ingénieur, enseignant en sciences et techniques de l'architecture.
Dualism : The quest for reality into representation. Game designing and building without matter. The ENSAV game design studio.
Paolo Amaldi, professeur en histoire et cultures architecturales, docteur en architecture, HDR, et
Susanne Stacher,enseignante en théories et pratiques de la conception architecturale et urbaine, chercheur au Léav.
La perception des espaces, retour de travaux expérimentaux avec le laboratoire de neuroscience
de l'université de Genève.
Crédits photo : Atelier Olschinsky